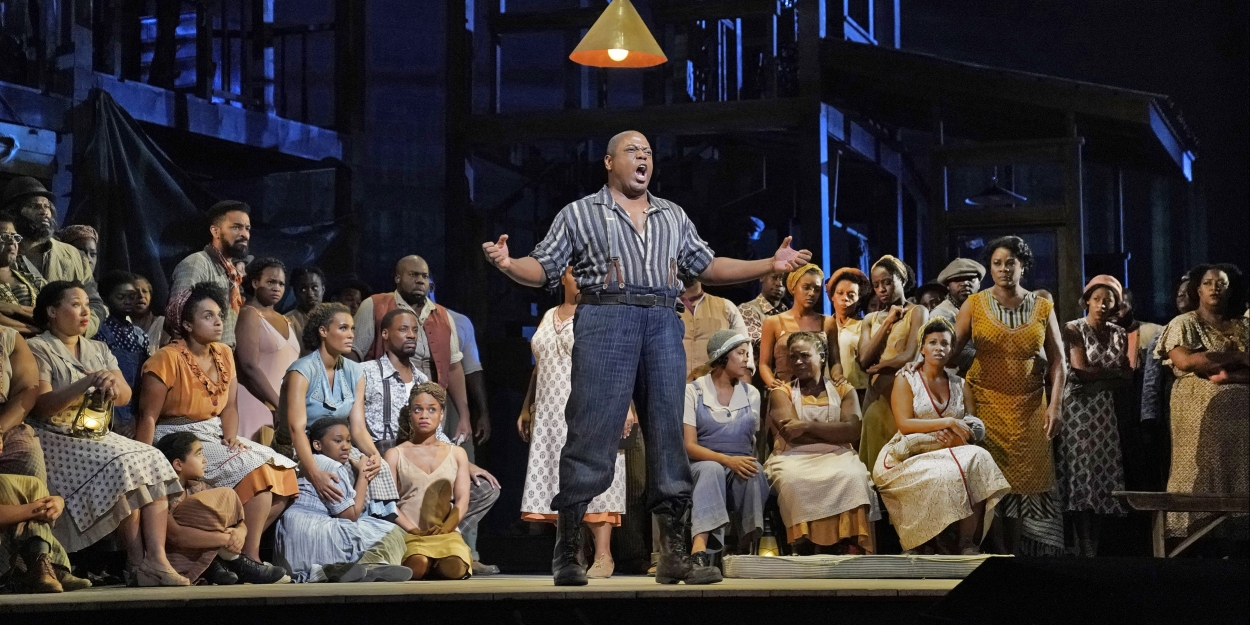 Over the weekend, I saw the Metropolitan Opera's wonderful new production of George Gershwin's 1935 opera Porgy and Bess.
Choreographer Camille A. Brown, below, was interviewed backstage about the dances she created for the production. She spoke about drawing on the performers' "blood memory."
In a recent TED talk, Brown explained that:
Movement has always been a part of the African tradition. So, when you look at the Middle Passage and how the culture of the African people, they attempted to strip them of their culture, but somehow it was still living in their body and we call that a blood memory. That idea of movement being a way of expressing ourselves is something that is traditional and it's a heritage that continues to be passed down. It's just something that is innate, in black people specifically. So, you're tapping into something when you're moving your body that I believe is very spiritual.
Here, Brown rehearses the chorus and dancers of Porgy. Are the movements expressive of blood memory?
Do you think blood memory is a real phenomenon? or is Brown using the term as a metaphor for something else? What?
If blood memory is a real phenomenon, to what extent does it govern the choices we make and the actions we take? Are our "blood memories" mutable? Can they be changed? Or are they permanent and inexorable, something to which we must submit?
Brown suggests that blood memory is dormant in all people of African heritage, and can help them to access traditional ways of movement. Are there other blood memories particular to other groups of people? Give an example.
Is soprano Latonia Moore drawing on blood memory here, in her performance of Serena's Act I aria "My Man's Gone Now" from Porgy?
What about here, singing "Un bel dì," Cio-Cio-San's Act II aria from Puccini's 1904 opera Madama Butterfly (Cio-Cio-San is a Japanese woman)?
The Gershwins' estate stipulates that only singers of African heritage can perform the Porgy and Bess, but that hasn't stopped the melanin-challenged from singing excerpts for years:
The opera begins with the aria "Summertime," the most covered piece of music of all time. Here it is sung by South African soprano Golda Schultz.
A few of the countless cover versions:
As one critic noted, Porgy and Bess is
a story of "black life" penned by a white Southerner [Dubose Heyward], scored by a New York Jewish composer [George Gershwin], written in dialect (cartoonish, by today's standards) and containing strong whiffs of well-intentioned paternalism, tourism, and exoticism.
These charges complicate the notion of "blood memory." Could there be a kind of American "blood memory," the product and the basis of our mixed cultural origins as a nation — a memory that made it possible for a Russian-Jewish immigrant and a white Southern aristocrat to write a great American opera on one aspect of the black experience?
Read more about the historic controversies surrounding the opera here:
The folk/bluegrass musician Rhiannon Giddens hosts a Metropolitan Opera podcast called "Aria Code," designed to introduce opera to new audiences. Here, she looks at Porgy and Bess from multiple perspectives, including roots both in minstrelsy and Charleston's Gullah Geechee culture.
Video of a symposium on the opera at the University of Michigan, including a diversity of viewpoints.